Do you want to take your tenor voice to the next level?
Join Our Newsletter
Get 10% OFF your purchase of "Teaching the CCM Tenor" through May 31.
Your Tenor Voice is Amazing!
You can build the tenor
voice of your dreams with my
"Teaching the CCM Tenor Course"
Learn how developing good posture can help you connect your voice to your body for a powerful, ringing sound.
Develop breath control with Jeff's proven breathing and support method.
Build a smooth transition from chest voice to head voice and back with no noticeable breaks.
Master your primo passaggio for a clear path to the top of your range.
Build a voice you can be proud of and that others enjoy listening to.
Learn to normalize high notes so they can soar effortlessly.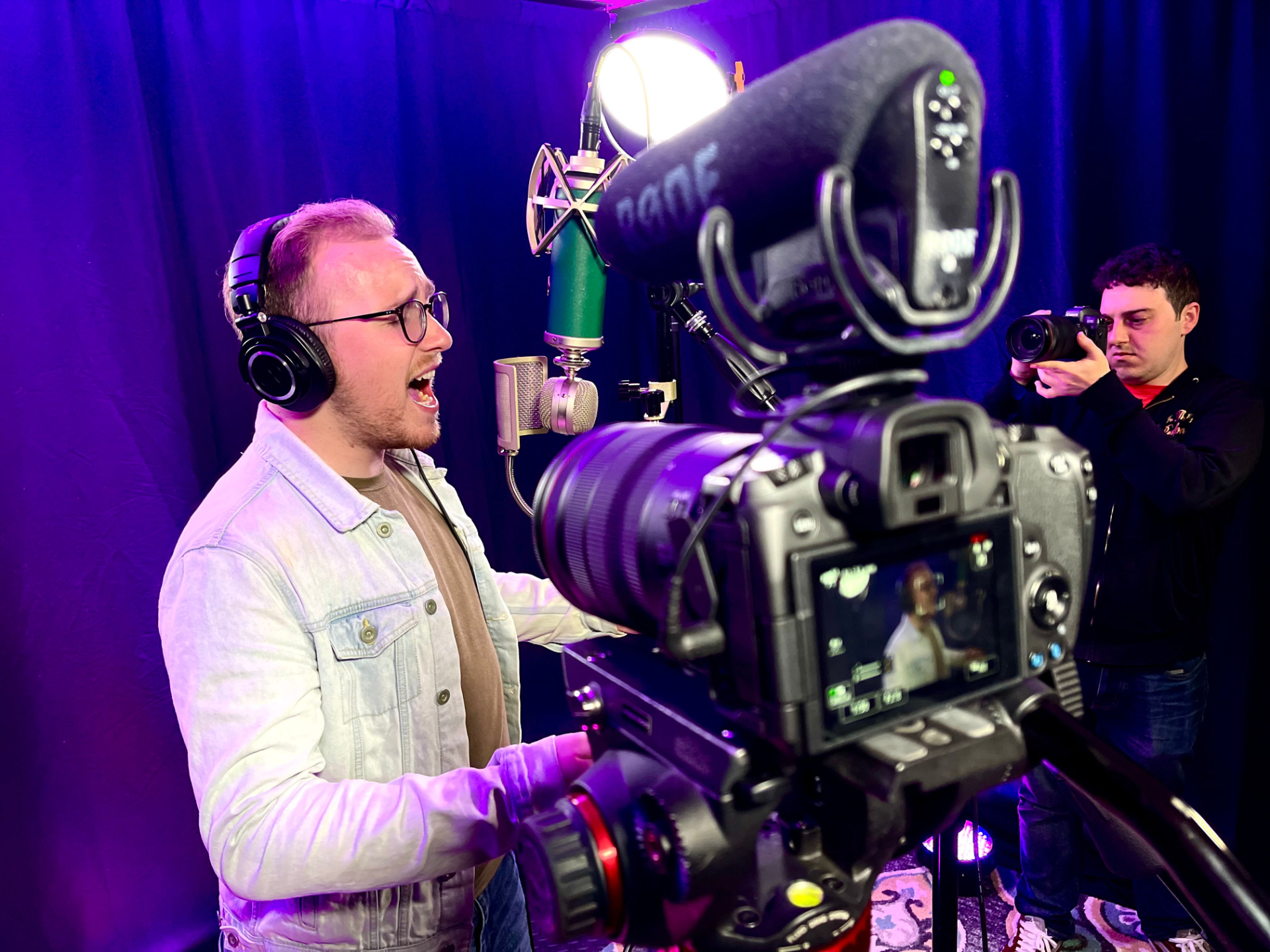 In The Next 6 Months, You Could…
Be singing music you once thought was too difficult to sing.
Build a fan base that is eager to hear your gorgeous tenor voice over and over again.
Be prepared to rock your first or next recording session and knock it out of the park.
The right vocal technique can make all the difference, and Jeff's method is the right stuff!
INTRODUCING
"Teaching the Contemporary Commercial Music Tenor"
Are You Ready To Take Control of Your Vocal Technique?
This course will give you the tools to build and maintain a solid, powerful voice full of beauty and color.
Build and maintain vocal health for a lifetime.
Develop confidence to sing those stratospheric high notes.
Learn to balance vocal registers for a seamless voice with no noticeable breaks.
With a simple shift in your mindset, time-proven concepts, and vocal exercises, a soaring tenor voice can be achieved with "Teaching the CCM Tenor".
What's Included In The Course...
MODULE 1
Air Flow and Compression
Having command over air flow and compression can be a game changer for any singer, especially one with a tenor voice:
How to compress the air for maximum efficiency
How to reduce overcompression
You'll finish this lesson with a thorough understanding of air flow and compression.
MODULE 2
Posture for Singing
Good posture is absolutely essential for a ringing tenor sound that can sustain long periods of singing on stage without fatigue:
How to find your tall, noble posture
How to apply good posture to great singing
Learn to free our body through easy-to-learn stretches
You'll finish this lesson with a clear understanding of how posture affects your singing voice and how to develop a daily practice that will not only keep your voice in alignment but your body as well.
MODULE 3
Breath and Support
There is no secret weapon to learning how to breathe and support the voice for singing. It's a daily practice that requires daily breathing and strengthening exercises. In this lesson, you will learn Jeff's fun and unique approach to breathing and support:
Fun and easy breathing exercises
Learn how to apply the best breathing method to speech
Learn how to apply the best breathing method to singing
You'll finish this lesson with a clear understanding of breath and support and how to apply it to singing.
MODULE 4
Vocal Exercises for Tenors
In this lesson, you will learn and apply highly effective vocal exercises that will allow you to easily glide through the primo passaggio and solidify your entire voice from top to bottom. Your chest voice (mode 1) middle voice (mixed voice) and head voice (mode 2) will feel and sound like one big, beautiful blended sound!
Vocal exercises for resonance
Vocal exercises for range building
Vocal exercises for agility and sustain
Vocal exercises for high notes
You'll finish this course with a vocal toolbox full of effective and powerful vocal exercises that you can use for all genres of singing for a lifetime.
This Course Is For You If...
You are wanting to take your tenor voice to the next level
You want to build secure, easy but powerful high notes
You want to make "the break' a thing of the past
You dream of singing in front of people knowing your vocal technique will carry you through
You want your voice to last a lifetime
YES, I WANT IN!
NICE TO MEET YOU
I'm Jeff Alani Stanfill
After over 24 years of teaching all types of singers, I have had the joy of teaching many, many tenors. During that time I have seen a common thread in tenors' voices and that is the "individuality" of sound. Rarely have taught a tenor that sounded like another tenor in my studio. Yet most tenors suffer from similar and varying degrees of tension which causes high notes to sound strained or unreliable.
Being a tenor myself, I struggled to find freedom in my upper register until I found the right vocal technique to build my tenor voice. Once the technique was secured and later mastered, I felt a calling to help other tenors avoid the pitfalls and challenges of this voice type.
Teaching voice is my passion and I am passionate about helping singers of all ages and genres to build a reliably sound vocal technique that will allow their voices to grow in power, range, agility, and beauty that will last a lifetime.
Although this course is geared toward tenor voices, singers of all voice types can benefit from this course. And if you are a teacher who feels challenged teaching tenors, this course is for you!
Your coach at Voice Soaring Studios,
Jeff
Join Our Newsletter
Get 10% OFF your purchase of "Teaching the CCM Tenor" through May 31.